KHC Newsletter – Apr. 16, 2017
We are on our way to hosting 200 events again this year as more seasonal hikers are now coming out for spring events.
From the Board of Directors:
KHC will be closing down new memberships this week at about 250 members.   This is done for 2 reasons.   First, we want to ensure that all current members have access to posted events.   Second, the tasks of registration, book-keeping, banking, managing website user accounts, and all the enquiries are all done by a few volunteers who deserve a break for part of the year.
In addition, the Board set a goal of improving communication with new members.   The Board will also be establishing some measures of success regarding member satisfaction.   We know that the most important factor is having spaces open on events, particularly on weekends.   A list of the Board's goals for 2017 can be found on the website on this page.
A revised Hike Leaders Program was approved.   The Hike Leaders Committee will be contacting leaders about their status (Active, Inactive, Co-Leader).    The list of Hike Leaders and a summary of the changes can also be found on the website on this page.
The Board approved a better definition of Scrambling and the information will be added to the events template.
The list of all KHC activities  is under review with regard to expertise requirements, safety, risk management, and Club capacity.
Other items will be featured in future newsletters.    Thanks to our volunteer Board of Directors.
---
KHC Scrambling Classifications (Adapted from the Yosemite Classification System):
Class 1- walking on trails with a low chance of injury; hiking boots a good idea.
Class 2: simple scrambling, with the possibility of occasional use of the hands.   Little potential danger is encountered.   Hiking Boots highly recommended.
Class 2.5 – Simple scrambling with the occasional more difficult section and mild exposure.
Class 3: Scrambling with increased exposure. Handholds are necessary.   A rope should be available for learning climbers, or if you just choose to use one that day, but is usually not required. Falls in the wrong place could be serious or even fatal.
Notes:
KHC mostly offers Class 1 and Class 2 events, but some Class 2.5 is also offered by experienced volunteer Hike Leaders    If a Class 3 section is planned, Hike Leaders are expected to inform  members within the event listing, to directly communicate the risks and expectations with participants, and to take all the necessary steps for safety.  Hike leaders are volunteers, not trained climbing instructors so anyone who participates in scrambling does so at their own risk.   Any participant can refuse to do a section that they find intimidating or unsafe.   Each of us is responsible for our own safety.
Class 4: Simple climbing, with exposure. A rope is often used. Natural protection can be easily found. Falls may well be fatal.
Class 5: Is considered technical roped free (without hanging on the rope, pulling on, or stepping on anchors) climbing; belaying, and other protection hardware is used for safety.
Notes:
KHC does not normally offer Class 4 and Class 5 events, even though we are insured to do so.
---
Volunteer Recognition:
When Kamloops Hiking Club moved from a Facebook-based,  meet-up group to a registered Society/Club a few volunteers stepped up to become the founding Directors of the Society.    Some of those Directors have moved away, but a few are still members.   A special thanks to Katherine Roberts, Steen Bray, Christina Nilsen, Susan Cullum, and Doug Smith for their contributions at that time.
---
Draft Events:
Draft Events are a KHC Event category for future events that are planned, but not finalized.   Hike leaders/organizers are volunteers who help out the best they can, but things change in their lives, so dates may change and plans may need to be altered.    Draft Events are not enabled for registration.   They are proposed events and once the leader can finalize the date, time, and place, he/she can then enable the event for registration, taking off the Draft Event category.   It is up to the Hike Leader/Organizer to decide when that occurs, but it is usually in the 1 – 4 weeks out time frame.
---
News Items:
We would like to welcome Big Boot Inn and Red wing Shoes who are offering a discount for all Club members.   See the KHC Supporters page for more information.
KHC raised funds for the Canadian Wildlife Federation through the Hike for Wildlife and some sales and then KHC topped off the amount to make a $150 donation to the CWF.
Thanks to Margo Mercier and Sharon Peters who have agreed to be Hike Co-leaders for KHC.
---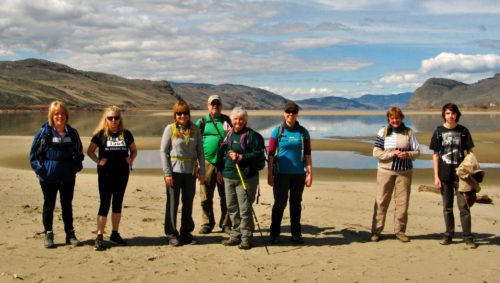 ---
Upcoming Events in the Next  Week:
header photo – Ed Hennan