KHC Newsletter – April 2, 2017
The lower trails of our area are now good for hiking, though there is some ice and mud at middle elevations and all the high areas are still covered in snow.
Hike Leaders News
we are recruiting new Hike Co-leaders to help out with events; contact a hike leader if you are interested
a new list of guidelines on what to do in the event of an incident (injury) during a hike is now available for feedback (

link

)
some upcoming events are featured on Facebook in one of two groups – Kamloops Hiking Club (Members Only) or Kamloops Hiking
our thanks to Katherine Roberts, Sam Chow, Wendy Kineshanko, Doug Smith, Jeremy Markel. and Paul Battjes for leading events in the last week
---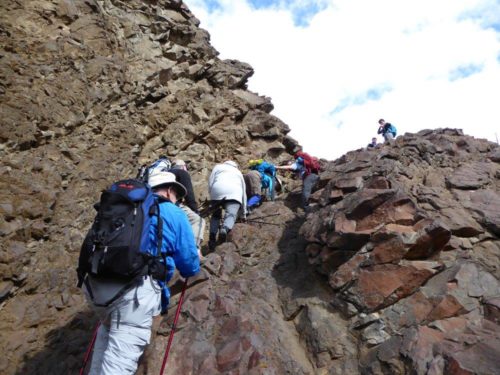 KHC Guest Policy
the policy on how Guests are invited, registered for an event, etc. is on our website at the Guests page
under review by the Board are some additional points – how many guests can be on a hike, how many times a guest can participate in a year, who can register guests, and how we track if waivers, fees, and forms are taken care of
following Board of Directors review and discussion, a revised Guest policy will be shared with members
it is likely that there will be a revised registration procedure in the future
---
FMCBC
KHC has been a member of the Federation of Mountain Clubs (FMCBC)  from the beginning.
FMCBC has hired a new Executive Director.   President Dave Wharton has included the information in a bulletin here
Our Club insurance program is coordinated through FMCBC along with 41 other outdoor clubs in the province and we participate in advocacy for non-motorized access to the backcountry.
FMCBC's March Newsletter
---
Kamloops Outdoor Club
we have extended a greeting and a positive message to KOC; we hope to do an event together in 2017
since we have common interests, it makes sense to keep the communications channels open for the future
---
---
Registering for Events
only members can register for events; this takes the burden off hike leaders to check on or deal with membership/waiver/fees
at this time, members can book 1 or 2 spaces; our challenge with booking 2 spaces is that the second name does not show on event lists, nor on the hike leaders list; since the participants list also has cell phone numbers and emergency contacts, this is a gap in our safety program
we may be moving to a new system where members can only book themselves (1 space)
for couples, this would mean 2 separate bookings, but those couples can share login credentials (one person makes 2 separate bookings) if they choose to
we are working on this and will inform members if a change has been made
when events are full, some members assume there is a waiting list, but almost all of our leaders do not want to be responsible for tracking wait lists; members just have to watch for cancellations
Information on Successful Bookings
---
Newsletters
The plan is to publish a new newsletter each Sunday so if anyone has news to add, please forward it by Saturday each week.
Send the information by email to dsmith@kamloopstrails.net
There will be a special mid-week newsletter this upcoming week featuring one of our members.
If you want to receive the newsletter by email, subscribe  below (the bottom widget of the website).   We currently have 148 subscribers.
---
Events in the Next Week:
---
---
Photo credits – Carole Pugle
Newsletter – D. Smith