KHC in the Subway
Utah is a favorite "haunt" of some of our KHC members and a group got together to travel to Zion National Park in October, 2014.
Doug Smith and friend Deborah Askew (Honorary Member) organized the permits, logistics, gear, and then recruited participants.   There were 11 KHCers at Zion and 7 opted to go into the Subway – Doug and Dianne Smith, John Moslin, Mary Putnam, Dave Schmidt, and Lois and Ed Hunter.
The Subway is a technical canyon and a long day.   Everyone had to bring a wetsuit, a harness, carabiner, descender, a drybag and some kind of footwear for canyoneering.   Deborah was our guide for the day.
We got an early start and shuttled vehicles.   We started off on the Kolob Terrace early, hiking through open pine forest in Wildcat Canyon over to the upper entrance of Russell Gulch.   The next section was all on beautiful slickrock.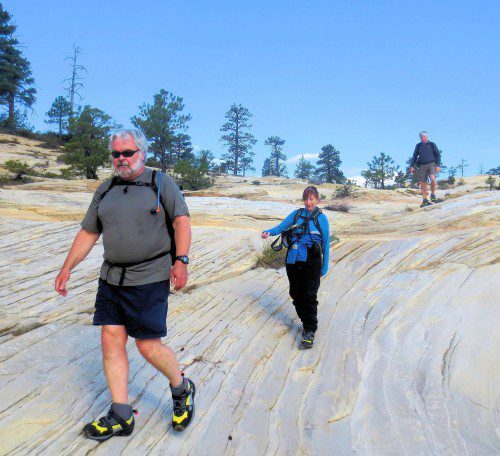 The Canyon funneled us down toward the Left Fork.
The final section was a steep descent to the bottom of the canyon.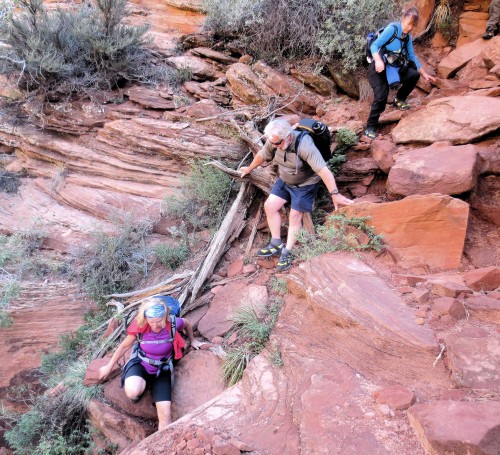 At the bottom, we put on our wetsuits to start the wading and then swimming through potholes.
As the canyon narrowed off, we had to work our way past obstacles, and scramble down canyon.   The first rappel was a first for some of the group, but everyone survived.
Rock, then water, then rock, then water.
Some of the potholes required us to throw our packs into the pool, drop over the edge into the pool, and swim out.
The longer rappels were exciting.
The Subway is a section of the Left Fork Route.   It just gets better and better.
and better yet.
Portrait time too.
The final tunnel at the end of the Subway.
The next stage was a hike down a series of small waterfalls and steps, but wetsuits were no longer needed.
Following the Left Fork downstream….
The final section was a long rough section over boulders and obstacles and parts of a trail.   We stopped to inspect dinosaur tracks along the way.
There was a steep uphill to the vehicles and our guide Deborah had a cold beer for everyone from a cooler in her trunk.   Now, that's a hike leader!   Our thanks to Deborah and to the team for the good spirit as they tackled new challenges.
Will we be having more adventures in 2015?   Stay tuned…
D. Smith